Uno de mis iconos favoritos, Fido Dido, aquel tipo blanco y delgaducho que llevaba una foto suya en la camiseta!!
Fido Dido nació en 1987
garabateado en la servilleta de un
restaurante neoyorkino.
La
autora
es
Joanna Ferrone
, una mujer que aún conserva los derechos sobre este joven irreverente de trazos simples y descontracturados. Algunos le atribuyen la
coautoría
a
Susan Rose
, con quien Ferrone también comparte la creación de
Angela Anaconda
, un personaje de ficción que rompe con los estereotipos. La filosofía de Fido Dido está en sintonía con el estilo de estas mujeres que ponderan que "ser uno mismo no sólo es bueno sino que es lo mejor que uno puede hacer",
la originalidad en lo sencillo
.
-----------------------------------------------------------------------------
One of my favourite icons, Fido Dido, that white and skinny guy with his own picture at the t-shirt.
Fido Dido was born in 1987

drawn in a paper towel from a

New York restaurant.

The author is

Joanna Ferrone

, a women who still has the rights of this irreverent young made by simple lines. Some people says that

Susan Rose is the co-author

, both also share the rights of
Angela Anaconda
, a fiction character that breaks with the rules. The phylosophy of Fido Dido is on this two women's tune, who defend that "be yourself is not only good is the best you can do",

the originality of the simple

.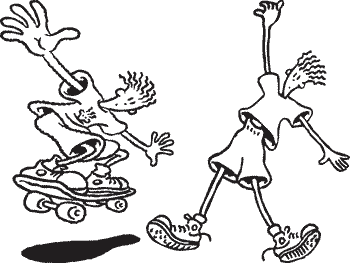 Recientemente se ha podido

ver de nuevo

en las

botellas y las latas de 7Up

en España, la imagen del fideo, (

algo remasterizada

). Los ejecutivos de márketing de 7Up quieren de este modo así volver a lo auténtico y promocionar las raíces de la marca, buscando la atención de los jóvenes entre 19 y 29 años, "

Es como si nunca se hubiera ido, la gente siente que Fido Dido siempre estuvo, es un sinónimo de la marca 7Up

". Todos recordaremos aquel slogan

"Is Cool To Be Clear"

("Lo claro rompe", en su desafortunada traducción al español) que hizo de 7Up una de las bebidas más famosas en los 90. No contento con eso, Fido Dido protagonizó uno de los boom de

merchandise

más fuertes en aquellos años, todos tuvimos, colonia (con aquel bote en zig zag), estuches, camisetas, la cabeza de Fido para poner en el boli, jabon de ducha (con el gancho para colgar en la ducha) y todo tipo de enseres relacionados con el fideo. De hecho hace muy poco he conseguido una

camiseta nueva blanca

, sencilla, con su cara, pues la única que conservaba hasta ahora era una bastante maltrecha que era de mi madre e incluso

algunos botes de colonia en una antigua perfumería de Barcelona

.

-----------------------------------------------------------------------------

Recently

we could have seen his image

again

in the

7Up cans and bottles in Spain

(

a little bit "Remade"

). The marketing executives of Pepsico want to go back to the authentic and promote the roots of the brand, looking for attract young people from 19 to 29 years old. "Is like Fido has never gone he was always there, being part of the image of the brand". We can always remember the slogan

"It's Cool to be Clear"

which made 7Up one of the most famous beverages of 90's. But it wasn't only that, Fido wanted much more and he was a total icon those ages being part of a total

merchandise boom

. Everyone had the Parfum, plumieres, t-shirts, heads for pencils, soap for hangin on the shower and all kind of products. I've recently got a

plain white new t-shirt

with his face because I had only vintage one in so bad conditions from my mom's youth. Iv'e got even

some botlles of parfum from and old drugstore in Barcelona

.
Todo esto sería perfecto sino se hubiera cometido el
crimen de pasar a nuestro blanco amigo
de sus características dos dimensiones a
3D
!!!! En un afán por
modernizar lo inmodernizable
, se han cargado la esencia para mi de un personaje caracterizado por esos trazos simples y gruesos sobre un papel en blanco. Es algo que pasa mucho hoy día evidentemente la marca se defiende escudándose en el cambio, y en la importancia del uso de las nuevas tecnologías para atraer al público más joven a la vez que generan ese sentimiento de falsa nostalgia en los más mayores. Por otro lado está bien
mantener la originalidad del personaje
unida a su época, esa exclusividad para los que vivieron esos años. De todos modos en
España se ha suavizado mucho este "cambio"
(en algunos países como India tuvo que volver a su forma original debido a la
no aceptación por parte del público de su nueva imagen
) y no se han emitido anuncios en TV actuales de nuestro blanco amigo. La campaña comenzó en primicia, como casi siempre últimanente, en lo que a publicidad se refiere, en 2005 en Argentina y en 2008 ya se implantó en
Francia (único país en que goza de gran éxito)
, para llegar un año después a España.
A continuación una serie de
vídeos promocionales de 7Up y del Fido Dido de antes y del de ahora
, ya sabéis mi opinion ahora, juzgad vosotros mismos...!!
-----------------------------------------------------------------------------
All of this should be perfect if they didn't commit

the crime of converting our friend into 3D

!! Trying to get modern what's untemporal and

killing the main characteristics of the Fido Dido image

. They say that is a logical change to use the new thechnologies and also to keep the retro image of

Fido in all of its originality

, exclusively for those who lived those years. Anyway in Spain the change has been so soft (in some countries they've had to go back to the original appearance of Fido

because people didn't accept the change

) and they haven't already passed actual TV commercials in Spain with Fido Dido on them. The campaign started in Argentina in 2005, at 2008 went to

France (where is very popular)

and last year came into Spain.
I leave some

commercials and promotional videos from 90's and actually

after the jump so you can judge by yourselves, now that you know my opinion!!
90's
NOW
Compartir