V INVASIÓN EXTRATERRESTRE (Los Visitantes). KILL YOUR IDOLS VOL. III / "V" INVASIÓN EXTRATERRESTRE
La mítica serie de los 80 creada por el maestro de la ciencia ficiión Kenneth Johnson, la cual todos los que tenemos una cierta edad recordamos con devoción. Siempre recuerdo que tenía que pelear con mis padres para poder verla pues era tarde y yo era muy pequeño. Luego pude ver muchas de las reediciones, pero nunca completa. Por eso hace poco he dedicado un tiempo a volver a verla por completo, descubriendo lo genial del guión y lo bien hecha que esta la serie para aquella época. A pesar de que poco a poco se va disolviendo y perdiendo creatividad a medida que las temporadas avanzan.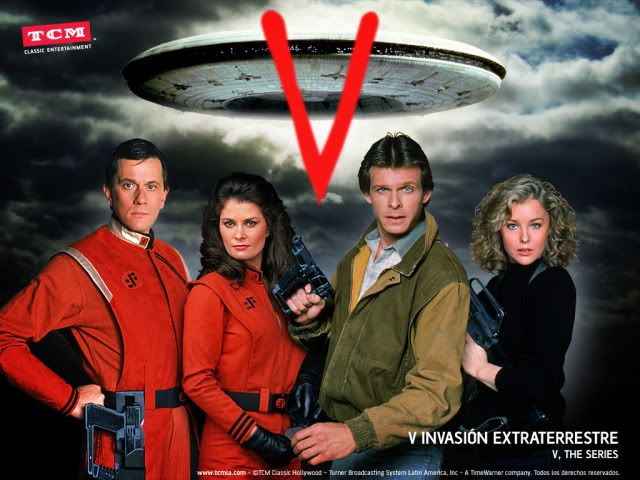 One of the most classic 80' series, created by the master of science fiction Kenneth Johnoson. I always remeber it with devotion because I use to fight with my parents to don't go to bed and stay watchin it, because I was a child. Then I could watch one of the hundred repositions that TV made in Spain but never complete. That's because I spent some time lately to watch it completely, discovering a genius script and a very well made FX for the moment it was made. But it goes worse each chapter of the latest seasons lacking of creativity.
La trama, los personajes (Donovan, Jullie, Tyler, Kyle, Elisabeth., Willy y por supuesto Diana), todos la conocemos así que iré directamente a los detalles, como por ejemplo el furor que causó la serie se demuestra en la cantidad de merchandising generado, incluso el que llegó a España (en aquel entonces no era lo más normal), recuerdo tener la pistola de Donovan, el uniforme de visitante y millones de pegatinas que regalaba con su álbum la mítica revista Teleindiscreta. Aunque nunca pude hacerme con una nave o el famosísimo muñeco del visitante.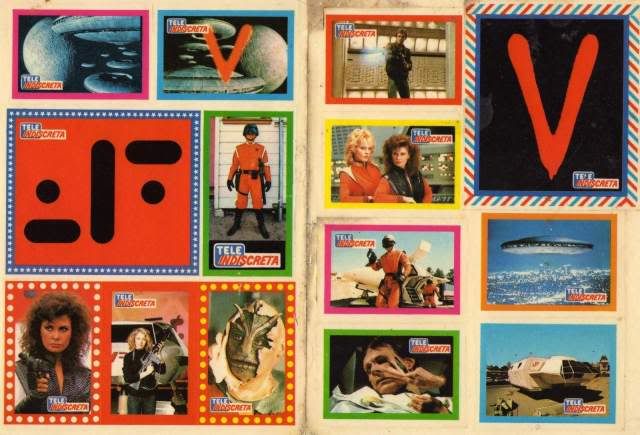 The plot, the characters (Donovan, Julie, Tyler, Kyle, Elisabet, Willy & of course Diana), everybody knows the series so I will go to the details, for example the enthusiasm it caused, there was a huge amount of merchandise that even arrived to Spain (it wasn't that normal in those ages), I remember having the Donovan gun, the Visitor uniform and millons of stickers that came attached with Teleindiscreta (a famous 80's TV magazine). But i could never get any ship or the famous Visitor toy.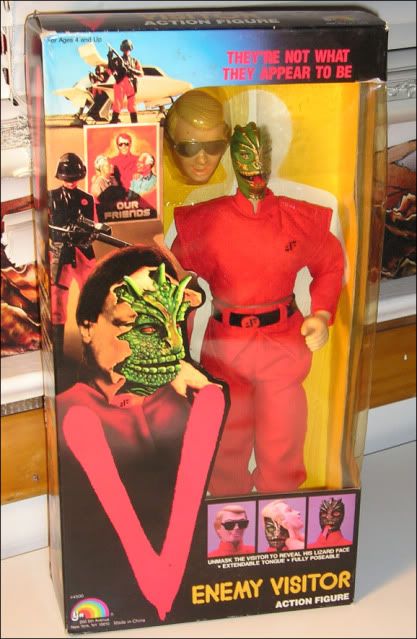 Y es que todo está muy cuidado desde el mito erótico que supone la malvadísima Diana (Jane Badler) hasta la iconografía y uniformes de los visitantes cuyo emblema recuerda sospechosamente muchísimo a la cruz gamada de los nazis. Quién no fingió comerse un ratón o insectos en el patio del colegio, incluso llegaron a hacer gominolas con forma de rata!!



Everything is so calculated from the erotic myth that is the evil Diana (Jane Badler) including the iconography & uniforms, the Visitors logo looks so much like the Nazi Svastika. Who didn't pretend to eat rats or insects, they made even candy looking like a rat!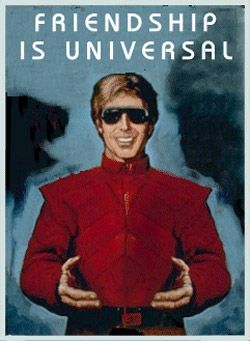 Pero esto no es todo, está claro que
Steve Jobs, presidente de Apple,
estaba viendo la serie en aquella época pues los visitantes utilizan un aparato para comunicarse que es idéntico a un iPhone!!!
--------------------------------------------------------------------------
But that's not all, is obvious that Steve Jobs, Apple's president was watching the series during 80's because the visitors use a communicator that looks is exactly like an iPhone!!!
Incluso hay un momento de guiño a la gran obra maestra del género en la época: Star Wars, cuando los humanos reciben a los primeros visitantes hay una orquesta que toca un himno que hoy día se ha convertido en más que un clásico, el tema de entrada de la película, eso si, un poco modificado para no pagar derechos!!! podéis verlo en el video de debajo:
--------------------------------------------------------------------------
There's even a wink to the most famous movie of the genre: Star Wars, when the human receive the first visitors there's an orchestra playing the Star Wars entrance theme song but a little bit modified for not paying rigths!! you can check it out in the video below:
Ahora la cadena de televisión norteamericana abc, creadora de LOST, ha sacado en 2009 el remake de la mítica serie, con Elisabeth Mitchell (Juliett en LOST) . En principio todo está muy cambiado pues ni siquiera se respetan los personajes originales pero con una preview que no tiene nada de mala pinta y parece que muy bien adaptada a la época actual, tomando la esencia de lo que hizo grande la original y haciéndole un gran favor a misma y no destrozándola como en otros remakes no tan afortunados. No obstante el director es el mismo que el de la original. Como siempre el público dará su veredicto, de momento hay una temporada completa y está triunfando, yo ya la he visto, si queréis verla está en la página de series que todos conoceís, pondría el enlace pero ya sabéis que es ilegal...hahahha, aquí debajo podéis ver el la promo de la primera temporada:
---------------------------------------------------------------------------
Now abc, the American TV Channel, creators of LOST, released in 2009 the remake of V, with Elisabeth Mitchell (Juliet from LOST). Everything is so carefully treated because they don't even respect or copy the same charachters the preview is so good and the adaptation at the actual times is perfect, makin even greater the original because takes the essence of what made big the original, not like other not so fortunately remakes. Probably because is the same director as the original. I recommend you to watch both, you can check the promo of the first season in the video below: